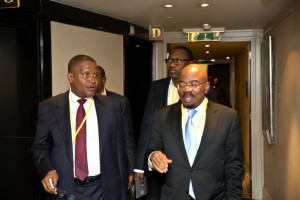 Since the outcome of the March 28th 2015 presidential election, the president-elect, Gen Muhammadu Buhari has become the toast of everyone, including some who shunned him like a pest in the past. Everyone seems to be angling for an opportunity to be seen shaking hands with Buhari and having the photos published and broadcast nationally and internationally. Some of the unlikely new 'friends' of Buhari include businessmen like Femi Otedola, Jim Ovia, Aliko Dangote, Tony Elumelu and Arthur Eze.
I have no grouse with people scrambling over themselves to associate with success, but it is worth looking back at recent history to see the roles some of these people played. For instance, when in November 2008, the Peoples Democratic Party (PDP) launched an appeal for funds to construct its national headquarters (the same building it claimed the N21 billion it raised last year was meant for), Femi Otedola donated N1bn and Aliko Dangote N3bn worth of cement.
Similarly, in March 2013, another round of donation was held to raise funds in aid of St. Stephen's Anglican Deanery and Youth Development Centre in Otuoke, Bayelsa State, home-town of President Goodluck Jonathan. Arthur Eze donated N1.8 billion. Jim Ovia, Oba Otudeko and Tony Elumenu all donated money.  I do not know if the church in Otuoke has been completed, but I suspect that Jonathan will need it for solitude as he will have plenty of time and few visitors after he leaves Abuja, assuming he is able to live in Otuoke.
Anyway, Dangote, Ovia, Elumelu, Otedola, Eze and others are Nigerians and have the right, just like other Nigerians to meet with and interact with the president-elect as he consults with compatriots on his plans to lift Nigeria out of the economic chaos it currently finds itself. Indeed, their business and financial clout entitles them to rub minds with Buhari and he seeks ideas to fast-track economic development and fight poverty.
However, if these 'emergency' friends, through iniquitous regulations and contacts in high places contributed to the mess Nigeria finds itself, it would be unwise for them to imagine that merely being photographed with Buhari would protect them if they are found culpable. And no one should assume that a simple visit will bury the suspected Ovia-Emefiele-Zenith Bank and the 'missing' NNPC $20bn connection just like that.
Lalong and long-lasting peace in Plateau
"After 16 hours of (a) waiting game, two of the embattled Plateau State legislators who sought refuge in the premises of the Federal High Court, Abuja were eventually arrested by operative of the Economic and Financial Crimes Commission (EFCC). Those arrested were the Speaker Simon Lalong and his deputy, Usman Zumunta. At exactly 1.32 am, the two lawmakers were found in one of the bailiff's rooms with one of them covering himself with heaps of files while the other begged not to be shot".
Nine years ago, the headline of Thisday newspaper of Saturday, August 26, 2006 screamed, "Plateau Speaker, Deputy Arrested" and was followed by the above story. The report detailed how operatives of the EFCC who had been chasing the lawmakers for weeks, finally managed to arrest them at the Abuja court. Not even the intervention of former old Plateau state governor and former PDP Chairman, the late Solomon Lar, who complained that such a man-hunt had no place in a democracy, could save them.
I came across the old newspaper in a closet by chance while looking for some books. I cannot remember how the paper ended up in there, but the stories from nine years ago reflect how much the fortunes of the Plateau state Governor-elect, Simon Lalong have changed. Given his first-hand experience with injustice and high-handedness, he is in a unique position to unite all ethnic groups and religions as well as the different interests that have nearly destroyed Plateau state in the last decade and half.
The institutionalized nepotism, chronic corruption and toxic tribalism in Plateau state under out-going Governor Jonah Jang has taught the people to ignore the bitter politics of religion and ethnicity in favour of competence and capacity. Under Jang, Christians, Muslims and virtually every ethnic group in the state suffered from the administration's greed, shortsightedness and exclusivity. Poverty knows no tribe or tongue, and Jang's mismanagement bites everyone equally.
For too long, Plateau state has been a haven of hatred, violence and death. With Lalong's overwhelming victory across religious, ethnic and political lines, he owes everyone the obligation of reuniting all groups in Plateau state. In a way, the high hopes the people of Plateau have on their governor-elect is similar to what Nigerians expect from the president-elect, Muhammadu Buhari.
It is imperative that Lalong builds a government that is inclusive of all ethnic and religious groups on the basis of equality, integrity, capacity and competence, otherwise the wind of change will have no meaning.